Saturday, 21 April 2001
1:30am
Sorry for the lack of updates. But here's the skinny. First item of business is my job. The company is kaput. So I've been looking for a job. I've been trying to find stuff in San Diego, but the market is very sparse right now, so I am seriously entertaining the thought of moving up to LA where there seem to be many more jobs. But only if I actually find a great job up there. I'm not gonna move back there unless it's a great job. Not even for a good job. I'd rather stick it out to find a good job in San Diego, I like living down here a lot better.
I bought my old work computer. I joined the dark side. I got a good deal, it's a dual processor Mac G4 450mhz... with dual 19" monitors too. Put together the monitors are absolutely monstrous and look totally ridiculous in my room. I'll never get any action from the ladies in this room, it's just too dang geekified. But don't worry, I'm not gonna run out and become some crazed Mac jihad, as so many people are prone to do. No, it is sitting here right next to my Pentium III running Windows 2000, and my laptop, also running Windows 2000. Fortunately, I still have all the software I need to network this thing with the other windows machines, so file sharing is a snap!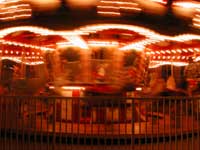 But the main reason I got this computer is for the processors. They are pretty damn fast for certain things, especially when it comes to doing video-related stuff, like editing. And also I want to start getting into 3D modeling stuff. You know, for like video and film and stuff. I figure that if last spring I was able to put together that light saber video, doing it all frame by frame in Photoshop, I could be dedicated enough to get good at a 3D modeling software package, and I'd want a good, fast compuer to help that along. And I got plenty of time to mess around with that stuff now that I (ehem) don't have a job anymore. And I already have everything else I'd need to put together a video, so hey, why not?
Besides, I would move to LA for a TV/film job doing that kind of suff, for sure. I'm thinking maybe I should start thinking about some areas other than the internet :) But I'm still young, I can still deal with the instability... for now.
Another great thing about this computer is the dual monitors. What a great thing for web design.. I can look at the rendered version on one screen and see all the code on the other screen at the same time! Woohoo! Same thing with Photoshop... if I got a big image I'm working on, I can fill up a whole screen with the image, and put all the palettes and stuff on the other one so they don't block the image! Damn! Am I spoiled or what!? And yeah, it's a used computer, but I'm the only one that ever really used it so... yeah.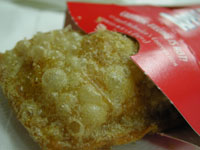 Last night, Leanne, Cami and I went out to eat at Black Angus and we all got the TV special deal... like $15 for a steak, a small lobster tail, and a crab-stuffed artichoke. Afterwards we headed to Belmont Park to ride the roller coaster, but we were all too stuffed to ride that thing, so we didn't. Instead, we decided to eat more food. McDonald's Apple Pie. But not Baked Apple Pie like most McD's have... no, this place has FRIED Apple Pie... which is not only hard to find, but much, much better than the baked variety! Yum yum.
Tonight I went out to see the movie Blow with Leanne. I thought it was definitely worth seeing. It is based on a true story. The movie Casino is also based on a true story. What is the common lesson to be learned from these two stories? Well the one I'm thinking of isn't that drugs are bad, or even that money isn't everything, or even that doing illegal stuff is bad. No, there is a very different lesson that I'm talking about.
The lesson is: If you are a single guy living a flamboyant life making millions of dollars and everything is going great and couldn't be going better...
DON'T EFFIN' GET MARRIED!!!
Dem drug-addicted money grubbin' hoes are gonna ruin your life, take all your money, and your kids too!!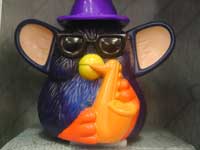 Yup. If you're gonna be a millionare living a flamboyant lifestyle and you want to get married at some point in your life, you should definitely get married before you make your millions, because after you find your money, it's gonna be really hard to find a good wife! If you are already a millionaire living a flamboyant lifestyle... um, take heed and learn from the horrible mistakes that the others before you have already made.
But back to being unemployed -- I'm mainly trying to make the most of it. There's no point in being all sad about it, I might as well take all the advantages I can. Take this time to relax, cuz there is no way I'll get this much vacation time from any job!! And also to learn new things that I normally wouldn't have time for. And to just enjoy life. Fortunately, I have saved up enough money to survive for at least a few months, which should be more than enough time to find a job. So for now, I'll just enjoy waking up naturally, when my body wants to, and not when some alarm tells me it's time to wake up. Even if my body decides to wake up only 10 minutes after the alarm would have told me to... at least it's when I wanted it to happen, and not a moment sooner!